Welcome to Davidson Landing, a picturesque resort style community nestled along the shores of the stunning Lake Norman. If you've been dreaming of lakeside living and a community that offers unparalleled amenities, then Davidson Landing is the place to be. In this blog post, we'll delve into the unique features and lifestyle that make Davidson Landing an ideal choice for those seeking the perfect blend of tranquility and convenience.
Lakeside Living at Its Finest
Lake Access and Waterfront Living

At Davidson Landing, residents enjoy unrestricted access to the pristine waters of Lake Norman. Imagine waking up to the soothing sounds of the lake and having the opportunity to indulge in water activities right at your doorstep. Whether it's a peaceful morning kayak ride or an exhilarating day of boating, the lake becomes an extension of your backyard.

Boat Slips

For those who cherish the freedom of the open water, Davidson Landing offers boat slips, ensuring that your vessel is always ready to set sail. Whether you're exploring the nooks and crannies of Lake Norman, wake boarding or surfing, or embarking on a sunset cruise, having your boat just steps away greatly enhances the convenience of your waterfront lifestyle.
Recreation and Outdoor Activities
For those who enjoy an active lifestyle, Davidson Landing has more to offer than just stunning views. With walking trails, tennis and pickleball courts, exercise trail, and a basketball court, residents can stay fit while surrounded by the natural beauty of the area. The community's commitment to an active lifestyle extends to the lake itself, with various water-based activities ensuring there's never a dull moment.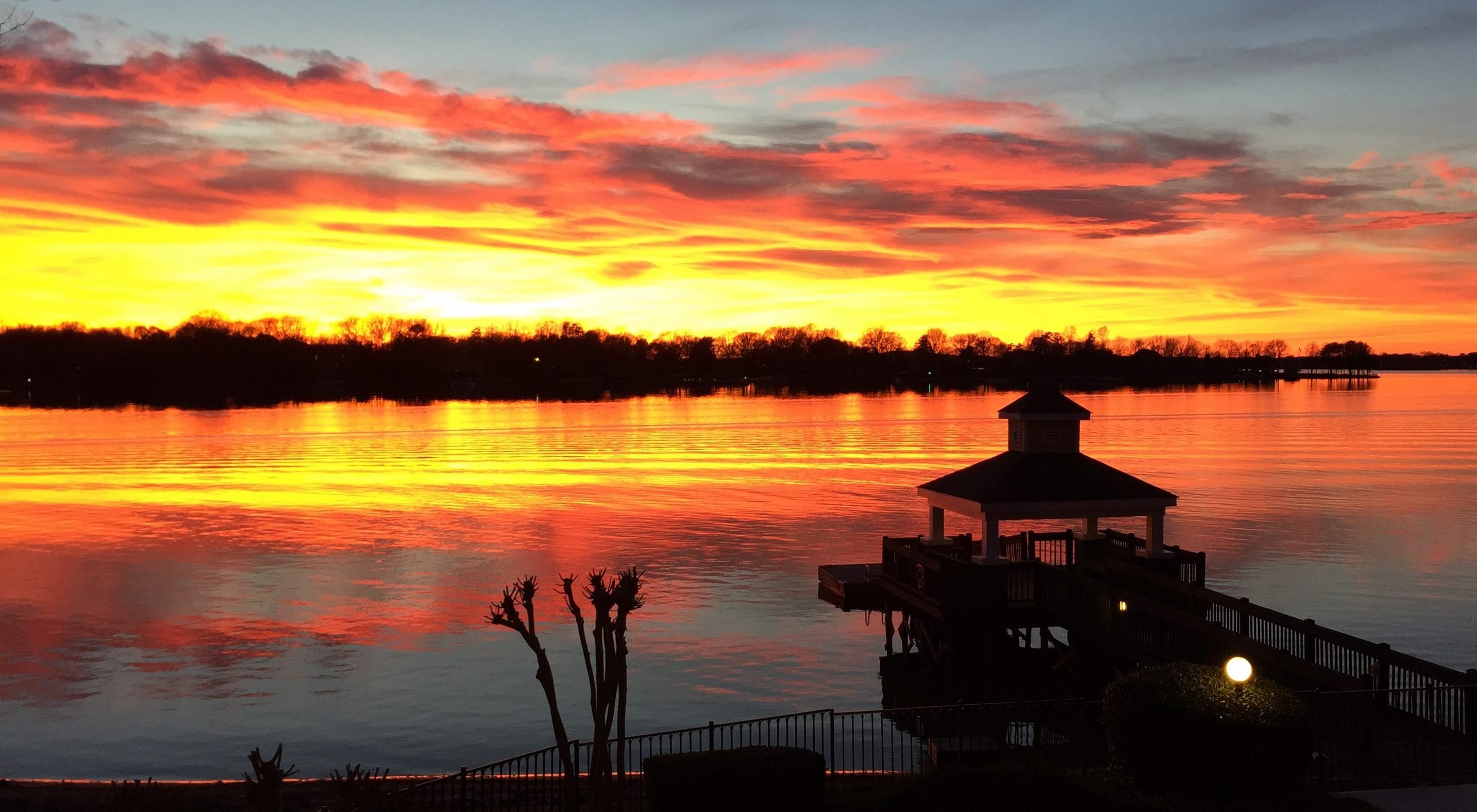 The Davidson Landing Lifestyle
Captivating Sunsets and Scenic Views
One of the many perks of living at Davidson Landing is the breathtaking spectacle of sunsets over Lake Norman. Unwind after a busy day by taking in the panoramic views from your waterfront property or join your neighbors at one of the designated sunset spots within the community. These moments are not just daily occurrences but opportunities to connect with the beauty that surrounds you.
Unique Features of Waterfront Properties
Davidson Landing boasts large selection of condo and townhome communities. There are a total of twelve complexes spread across the landing. These include Southpoint, Stone Bluff, Windjammer, Portside, North Point, Pier Point, Newport, Emerald Bay, Captains Watch, Tennis Villas, Edgewater, and Harborwatch. From private balconies with lake views to well-designed interiors that maximize natural light, every aspect of these unit is crafted to enhance the lakeside lifestyle. The sense of tranquility and exclusivity that comes with owning a waterfront property here is truly unparalleled.

Real Estate Insights in Davidson, NC
Proximity to Downtown Davidson and Beyond
Davidson Landing offers more than just lakeside living. Its strategic location provides residents with easy access to downtown Davidson, renowned for its charming atmosphere, award winning restaurants such as Kindred, eclectic shops, and vibrant community events. Additionally, the proximity to shopping, dining, Birkdale Village, and Charlotte ensures that every convenience is within reach.
The Davidson Real Estate Market
Interested in making Davidson your permanent home? The real estate market in Davidson, NC, is thriving, offering a range of options to suit various preferences and budgets. Whether you're looking for a cozy condo or a spacious townhome, Davidson Landing presents a unique opportunity to invest in a property that not only provides a comfortable living space but also a fulfilling lifestyle.

Why Move to Davidson Landing?
Unmatched Lakeside Lifestyle – Davidson Landing is more than a residential community; it's a gateway to a lakeside lifestyle that many dream of but few experience. From water activities to community events, every day presents a chance to embrace the beauty of Lake Norman.
Convenience and Connectivity – The proximity to downtown Davidson, shopping, dining, and major hubs like Charlotte ensures that you can enjoy the tranquility of lakeside living without sacrificing convenience. Davidson Landing truly offers the best of both worlds.
Investing in Your Well-Being – Beyond the physical amenities, living at Davidson Landing means investing in your well-being. The sense of community, the beauty of the surroundings, and the myriad of recreational opportunities contribute to a fulfilling and enriching life.
In conclusion, Davidson Landing stands as a testament to the allure of lakeside living, providing not just homes but a lifestyle that celebrates the beauty of Lake Norman. If you're ready to embrace a community that values both serenity and adventure, Davidson Landing is your destination. Explore the available waterfront condos and townhomes, and take the first step toward making this lakeside haven your home.
Ready To Make Davidson Landing Your Home?