We Know Real Estate.
Request our complete guides, free! You'll receive top down picture of nearly everything you need to consider as a real estate buyer or seller in any market. Get more informed by requesting our guides below!
Learn more about
Top 10 things you need to know before selling your home, including tips for low cost improvements for a better selling price
Discover how you know when it is right to make that repair, and knowing when and how to invest in your house
A complete step by step breakdown of real world facts VS real estate reality TV shows, comparing and contrasting the differences
The Seven Steps to Owning a Home, and how to maximize the success of your transaction every step of the way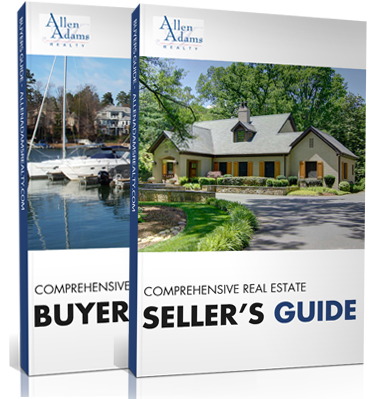 Download the guides below or ask a question and we'll answer promptly!
Contact Our Team
SEE WHAT OTHERS ARE SAYING
Bill was superb during the entire process
"My wife and I used Bill Adams as our real estate agent when we were looking for our house on Lake Norman. Bill was the most professional real estate agent we have ever used. He was patient, honest and informative. Bill took the time to understand what it was we were looking for and narrowed down the list of houses that fulfilled all of our criteria. There was no pressure to look outside of our price range. His keen eye was a tremendous help when we went to look at houses, pointing out positives and negatives. When we decided on a house we wanted to purchase, Bill guided us along through the process and helped us negotiate our deal. Bill was superb during the entire process."

Dr. Eisenberg
Remarkably organized, efficient and extremely calm
"Bill was our purchasing agent for our home in Mooresville, NC. As out of state buyers, we were unfamiliar with North Carolina requirements in terms of purchasing real estate. Bill was extremely efficient and able to keep us apprised of each step in the process. He went above and beyond his responsibilities as our agent on numerous occasions. He met contractors, home inspectors and even interviewed landscaping companies in our absence! Bill was remarkably organized, efficient and extremely calm through out the entire process making our transaction smooth and timely. Bill truly knows his clients and strives to meet their needs. It is without hesitation that I recommend Allen Adams realty."

The Garlocks
Truly an expert in Charlotte Real Estate
"Bill is truly an expert in Charlotte Real Estate. My wife and I were renters looking to buy our first home, and Bill provided all the expertise we needed to make the best decision possible. We especially appreciated that we never once felt pressured to spend more money. At the same time, Bill didn't let us do anything we would regret later. I honestly can't imagine the process being any easier. Bill was on top of every detail and always ready to answer our (unending) questions. Without a doubt we will be working with Bill again the next time we move."

The Bedics
He will work hard to help you realize your goals
"I was renting a home which was being sold. Bill brought a prospective buyer to see the house. He, among the many brokers who showed the home, was the only one who was concerned about my situation and offered to help. He guided me throughout the process. He spent a great deal of time selecting and showing me possible properties. The house I purchased was one he found after studying what I wanted. Without his assistance I would never have found this house, which is perfect for me. With no hesitation, I would certainly recommend Bill to anyone who is looking to buy or sell property. He is honest, friendly, conscientious and creative. He will work hard to help you realize your goals."

John
The best agent
"My daughter in North Carolina met Bill amongst other agents and felt he would be the best agent to help my wife and I, who live in PA, to find a second home in the Charlotte area. I was very pleased with Bill's calm and professional demeanor. He was always accessible by phone. He also kept me regularly updated with properties on the market. Bill made the purchase and closing process easy, and his use of electronic documents for much of what we did made the process simple and quick. I would highly recommend Bill Adams as a buyer's agent."

The Levines
Bill is very professional and knowledgeable
"I would highly recommend working with Bill Adams. I was an executor of an estate and needed to sell a property in Cornelius. I live in NY and did a bit of research for the Cornelius area and found Bill. I flew to NC and met with Bill. Bill took charge and handled all the difficult tasks that I couldn't do since I was out of state. He went above and beyond and I am very grateful for his help. The property was sold in less than three months, I received the asking price and I had to choose between two offers. I have already recommended him to friends in the area. Bill is very professional and knowledgeable and it was a pleasure working with him."

Tracy
Extremely informative
"You sure work hard! Extremely informative...thank you. You have been the most effective and informative agent we have met."

Marty & Bonnie
Highly recommending Bill
"After a number of moves through the years and working with a number of realtors, I can honestly say that working with Bill was the most pleasant experience we have ever had! We moved to the Lake Norman community from the DC area and had no understanding of the different communities around the Lake. Bill was knowledgeable, thorough, patient, responsive, not overbearing, and listened extremely well to our needs and wants. I have no hesitation highly recommending Bill! We were completely satisfied with the process."

Cynthia H.